November 20, 2023
International Exchange Promotion Committee
Japan Mission of the Taiwan Exhibition and Convention Association (TECA) made a courtesy visit to JCMA
Japan Convention Management Association (JCMA) has concluded Memoranda of Understanding (MOU) with five organizations to promote exchange with overseas MICE organizations.
On November 14, 2023, the Japan Mission of the Taiwan Exhibition and Convention Association (TECA), which is one of the MOU partner organizations, visited JCMA. 16 representatives from 9 TECA member companies/organizations attended, and the 12 directors of JCMA including CHIKANAMI Hirotake, Representative Director and TAKEUCHI Noriko, Deputy Representative Director welcomed them.
After the welcome greeting by CHIKANAMI, TECA's Honorary Chairman, Walter Yeh and President, Felix Chiu gave their remarks. "TECA and JCMA entered into the MOU and began our exchange five years ago in July 2018. Due to COVID-19, it had been challenging to progress our interaction face-to-face, but today, we are very delighted and honored to be reunited here. Going forward, TECA aims to realize even more active exchange with JCMA."
After that, each of the attendees introduced themselves and their companies' businesses.
The attendees found that they shared mutual experiences, including business activities of some JCMA directors in Taiwan or collaborative endeavors between some JCMA and TECA members.
All in all, this meeting proved to be a great opportunity to fortify the foundation toward promotion of further exchange and broader network, between not only JCMA and TECA members, but also between the two associations.
JCMA's International Exchange Promotion Committee will utilize the outcomes of this reunion to best advantage going forward, to realize exchange projects with TECA and other MOU partner organizations.
| | | |
| --- | --- | --- |
| | | |
| CHIKANAMI Hirotake, Representative Director of JCMA, gives the welcome greeting. | | The greeting by President of TECA, Felix Chiu. |
| | |
| --- | --- |
| | |
| TECA's President Felix Chiu (right) presents a commemorative gift to JCMA's Representative Director, CHIKANAMI Hirotake. | |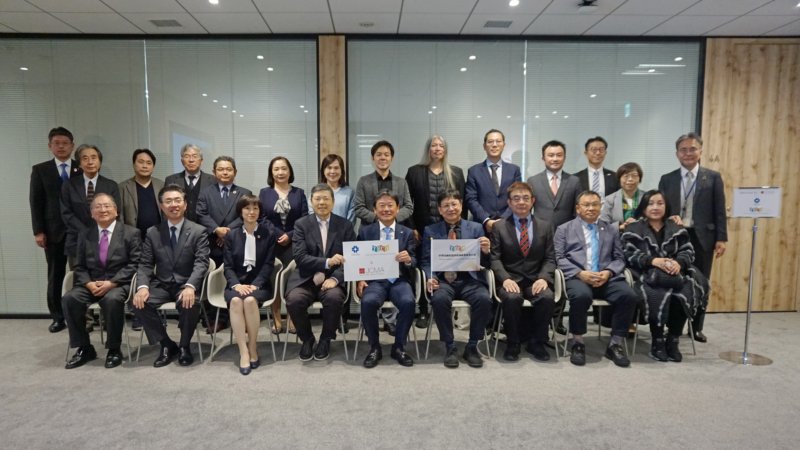 The TECA Japan delegation and JCMA directors.